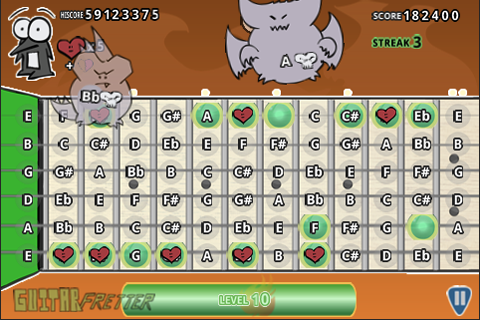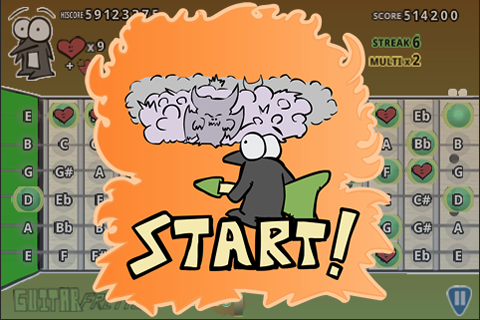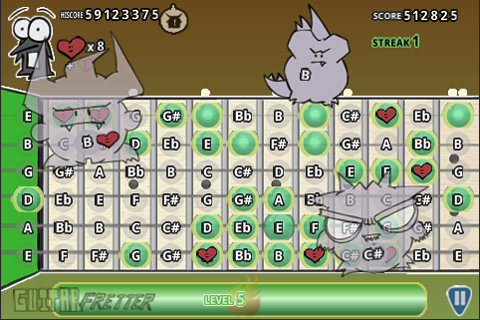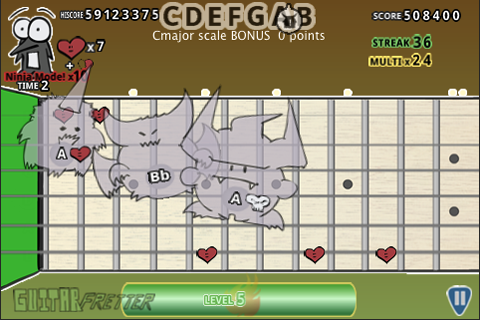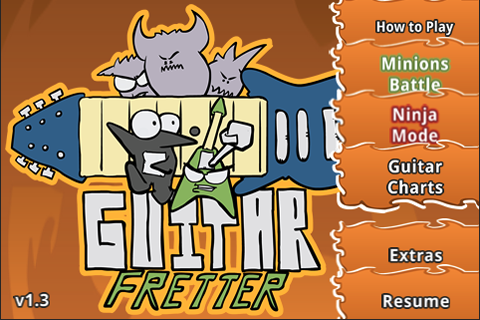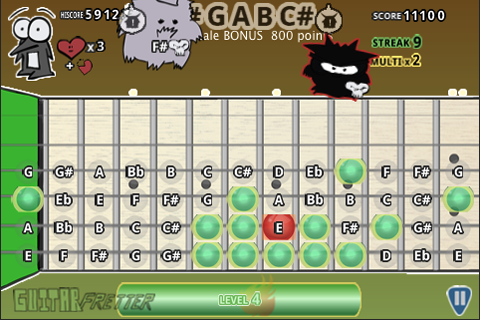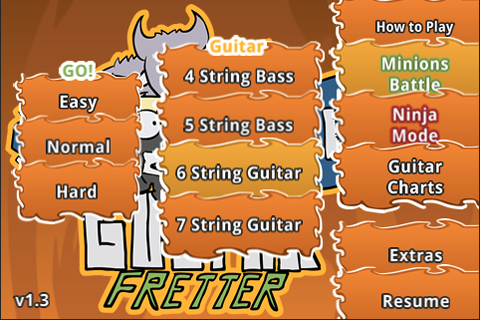 Guitar Fretter 1.3 Release Notes and Gallery
After months of development, I'm proud to share with you a significant update to Guitar Fretter. I call it version 1.3. I hope you call it really fun and an awesome way to memorize the guitar note positions. :)
It's live in the iTunes App Store for all iOS devices - that's right GF is now a Universal App which means it runs at an appropriate resolution on iPhone, iPod Touch, and iPad!
Guitar Fretter is also live in the Android Market - which, by the way, the Android Market has received a huge upgrade from Google. The new Market is looking great and is easier to use. Now you can browse apps from any device, not just Android devices.
What's new in Guitar Fretter 1.3?
*** Guitar Chart mode!
-- See the fretboard, the fret note positions, and play guitar sounds for 6 and 7 string guitar and 4 and 5 string bass.
-- Guitar Charts mode is a "free play" where you don't have to worry about game rules, minions, or lives.
*** Save and Resume!
-- Save/Resume: Your game will be saved when you exit the game in Minion Battle or Ninja Mode. Your saved game will be available when you launch Guitar Fretter, you will see a "resume" option.
*** Multiple Difficulties
-- Start Minion Battle or Ninja Mode at Easy, Normal, and Hard difficulties!
*** Ninja Mode!
-- Match notes and fret positions without hints! Test how well you've memorized the note positions.
-- Ninja Mode gives 10x multiplier for points earned!
*** Battle Minions
-- Includes the New: Timed Ninja Mode, experience Ninja Mode for 30 seconds when you activate it by pressing the Ninja Minion.
-- Classic match - touch a minion, touch a fret note.
-- Instant match - touching a fret note first now matches all minions that share the same note!
*** iOS Universal App!
Guitar Fretter is now a Universal iOS app! Now with high-resolution support for iPhone4 and iPad!
*** Android - Built for Android OS 2.2 (Froyo) and Newer
*** Usability Improvements
-- "Extras" screen: a summary of what's in this release and link to the comic and blog (the blog you're reading right now).
-- Non-blocking minions: Minions don't block the guitar fretboard anymore! Note: the flipside to this is once a minion is over the fretboard, the only way to match them is to use the "Instant match" technique mentioned above. What that means to you during gameplay: just press a note on the fretboard that matches the minion and you're all set!
-- Alert balloons point to off-screen approaching minions.
*** Instructional Comic!
-- Added 6 instructional comics to introduce the core gameplay of Guitar Fretter
*** Fixes and Improvements
-- Game performance improvements - especially at high levels of play.
-- Graphic style improvements - better layout, colors, and other adjustments to game graphics.
-- New way of displaying health
-- Improved hint text in comic word balloons from the penguin character: Pick Wingvey